Estimated Delivery 7 to 9 Days

Tracking number available in 3 days time.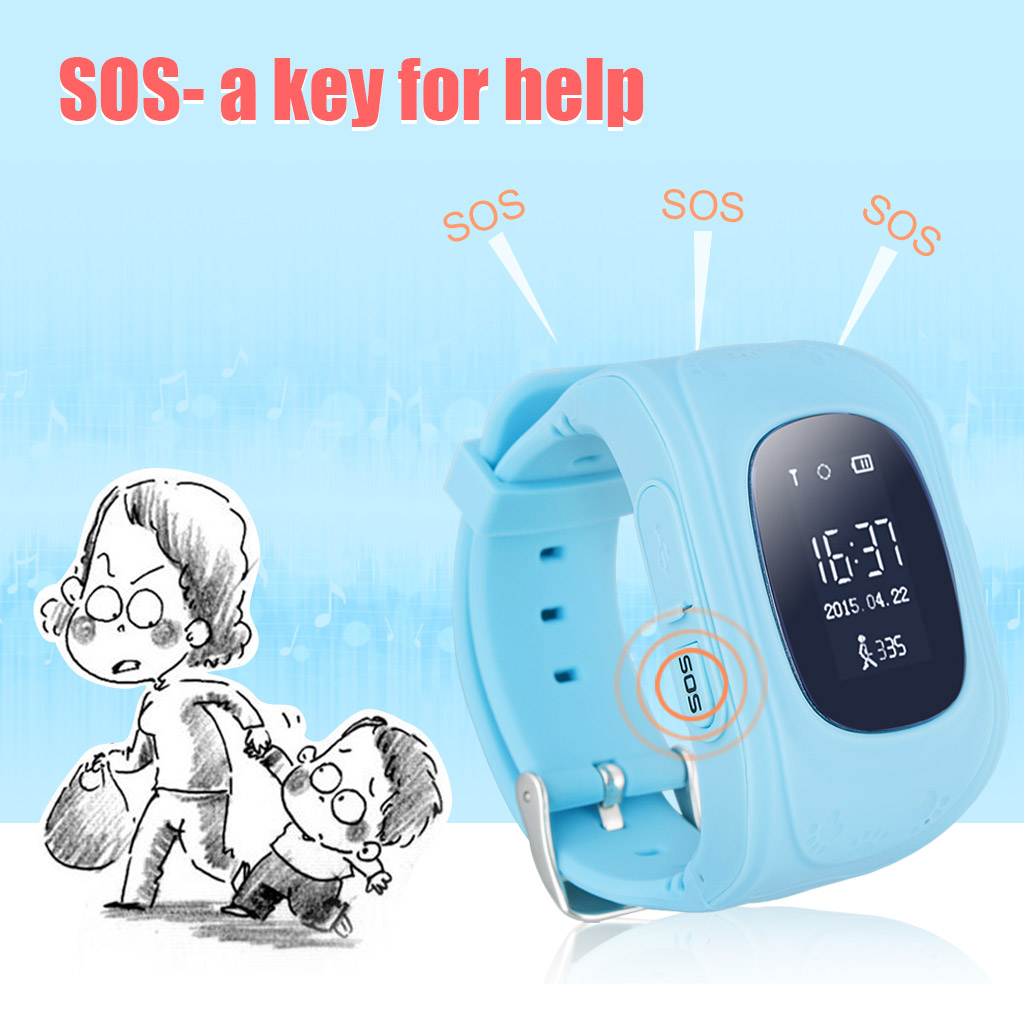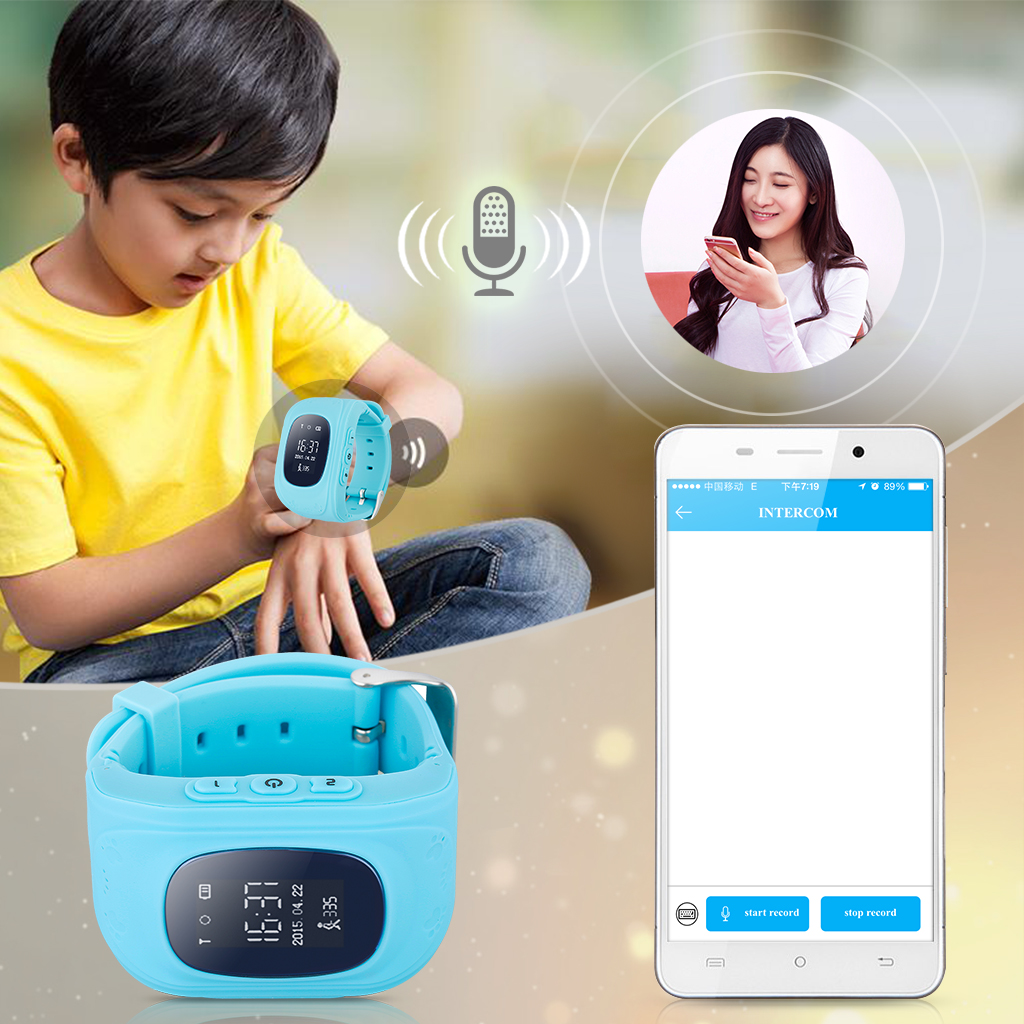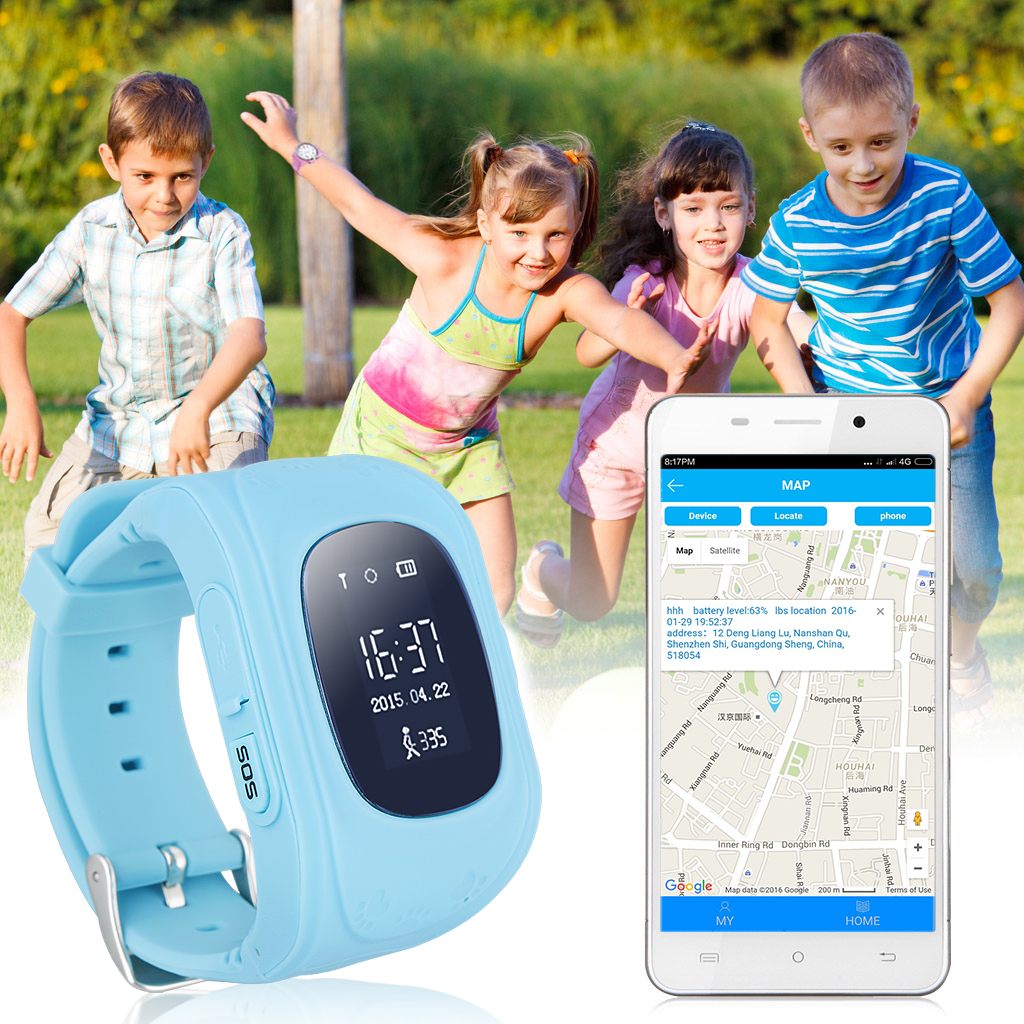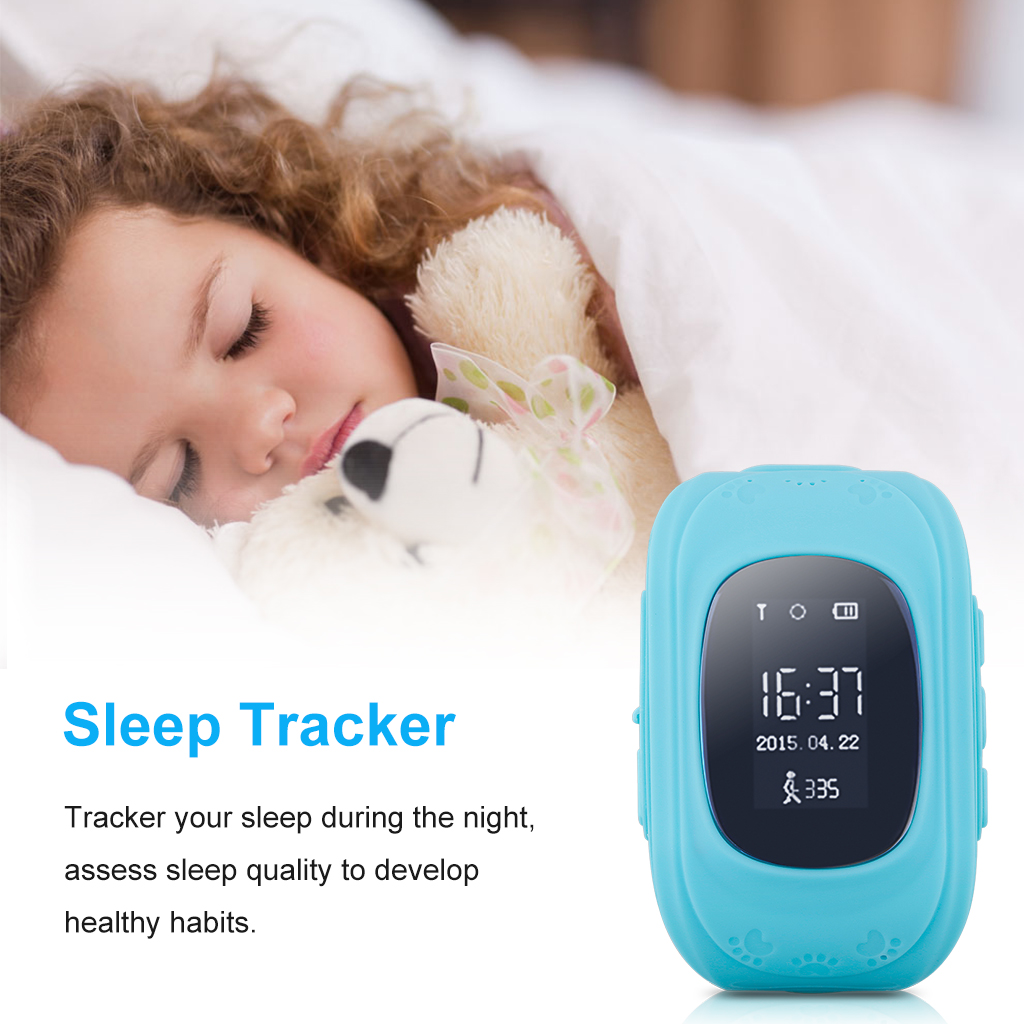 Excelvan Q50 Kids Smart Watch GPS LBS Double Location Safe Children Watch Activity Tracker SOS Card for Android and ios
Notes:
1. App (SeTracker) system required android (os 3.0 or above), iphone (ios 6.0 or above)
2. Saving telephone numbers in the SeTracker App setting's telephone, kids can answer and receive calls , but when saving in the contacts, kids can only receinve calls, can't make calls!
3. Be compatible for 2G GSM Micro Sim Card.
4. App language: Chinese, English, Português, Spanish, Deutsch, Thai, Turkey, Vietnam, Russian, French, Indonesian, Malay, India, Dutch, Danish, Polish, Greek, Italy, Myanmar, Sweden, Hungary, Filipino, Bulgarian, Finnis.
Introduction:
This is the Excelvan Kids Smart Watch not only have the childrens safe postion function but also have the common smart bracelets function, such as sport monitoring, sleeping monitoring and alarms. Of coure, the Safety is the first priority especially for the children. As a kids Safe smart watch, it has GPS and LBS double location for accurate position. It is also a quad band GSM (850MHz, 900MHz, 1800MHz, 1900MHz) unlocked phone that can be used anywhere all over the world. Sticking in a 2G SIM card and you can call on your wrist.
For better use, we develop the unique APP: SeTracker to take care of your kids. You can set SOS/Family number, Contacts, Telephone numbers in the APP, which avoid the stranger calls to yoru child. Meanwhile, the Geofence, Voice monitoring, Message alert, History route etc which let you know more better of your child.
To live a happier and relax life, buy it for your children or frineds, relatives children. It's our pleasure to help you a safe and health life.
Main Features:
1. Accurate Location
We use GPS and LBS double location for accurate position.
2. Safe Incoming Calls
a. After setting SOS/Family number, Contacts, Telephone numbers in the APP, kids can only receive calls from the setting numbers. Not from STRANGER!
b. Kids can press SOS or familiarity number button to call you!
3. Walkie Talkie
By this function, you can have voice conversation between smart watch and app. Send voice message over app or watch recording message send to phone's app all is available!
4. Safty Zone
The Min. fence radius is within 500 meters, if the watch user walked out of the range, your phone will received and alert.
5. Pedometer
It's also can record your dear bays steps, calories and distance. Let you know baby sports data, adjust exercise program and get healthier life!
6. Sleeping Monitiring
The smart watch will record your babys turnover times, you can check the related data through the APP.
7. History Route
Path query in the your childrens historical activities by the choose the periond.
8. Find the watch
If the watch is not nearby, send this command, the watch will start to ring for 1 mins so that you can easily find it, press any button will stop the ringer.
9. Message Alert
a. Low-voltage remind
b. SOS remind
c. Take off watch
If you set the telephone number in the APPs "SMS alerts setting", you will received message when occur the above 3 conditions.
10. Listen to kids
If you miss your baby, you can listen to them without disturbing them.
11. Alarm
You can set 3 different alarms as your childs requirements!
12. Remote Shutting Down
You can remote controlled the smart watch power off via APP.
13. Anti-lost
After registered your smart watch in the phone and the APP is on-line, if someone take off the watch from your childrens wrist, you phone will alert to remind you.
14. App Language
The App language support Chinese, English, Português, Spanish, Deutsch, Thai, Turkey, Vietnam, Russian, French, Indonesian, Malay, India, Dutch, Danish, Polish, Greek, Italy, Myanmar, Sweden, Hungary, Filipino, Bulgarian, Finnis.
Specification:
Basic Information
Brand Excelvan
Model Q50
Color Red
Wristband Material Silicone
Net Weight 39g
Technology Information
Cellular Band
GSM 850/900/1800/1900MHz (support 2G , do not compatible with 3G or 4G network)
SIM Card
One
Service Provide
Unlocked
Operating System MTK G
CPU MTK 6261 364MHz
Display 0.96 " OLED 128x64
Speaker 8Ω/0.5W
MIC Built-in hi-fi MIC
Communication GSM、GPRS
Location GPS、LBS
Telephone Support
SMS Alert Support(Need to install software)
Remote Monitoring Support(Need to install software)
SOS Alarm Support
Step Counter Support
Acceleration Sensor Support
Remote upgrade Support
Remote debugging Support
Low power management Support
Battery

Battery capacity 400mAh
Battery Types Lithium-ion polymer battery_3.7V
Package
Size
9 x 9.5 x 7 cm
Weight
143g
Products
1 x Smart Watch
1 x USB Charging Cable
1 x Screwdiver
2 x Screw
1 x User Manual
Location
Cost
Peninsular Malaysia
RM

7.60

Sabah & Sarawak, International
RM

11.95
| Country | Estimated delivery (Working days) | Online Tracking Availability | Shipping Company |
| --- | --- | --- | --- |
| US | 7-10 Days | 2 Days | America Line1/中美专线(IB) |
| Canada | 7-15 Days | 2 Days | E post/国际E邮宝 |
| UK | 7-10 Days | 5 Days | British priority mail/英国专线(HQ-Y) |
| Australia | 5 - 8 Days | 2 Days | Australia priority mail/澳大利亚专线(UBI) |
| New Zealand | 10 - 25 Days | 1 Days | Sweden surface mail/瑞典小包平邮(B) |
| Japan | 10 - 25 Days | 1 Days | Sweden surface mail/瑞典小包平邮(B) |
| Germany | 7-15 Days | 3 Days | Germany priority mail/德国专线(HQ-D) |
| France | 7-12 Days | 5 Days | French priority mail/法国专线(HQ-C) |
| Italy | 7-12 Days | 2 Days | Italy priority mail/意大利专线(BRT) |
| UAE | 10 - 35 Days | 5 Days | Sweden surface mail/瑞典小包平邮(B) |
| Thailand | 7-8 Days | 2 Days | SEA priority mail/东南亚专线(LWE) |
| Vietnam | 7-8 Days | 2 Days | SEA priority mail/东南亚专线(LWE) |
| Brunei | 15-35 Days | 5 Days | 4PX Singapore Post OM Pro/4PX新邮经济小包 |
| Singapore | 7-8 Days | 2 Days | SEA priority mail/东南亚专线(LWE) |
| Indonesia | 7-8 Days | 2 Days | SEA priority mail/东南亚专线(LWE) |
| Philippines | 5-10 Days | 2 Days | AU priority mail2/中澳专线(TOLL) |
For combine shipping, please contact
support@kumoten.com
/ whatsapp 0193310990
Product Return Policy
In what condition do we accept product exchange and/or refund?
Kumoten dropshippers are allowed to return products within 14 calendar days from shipment date under the following circumstances:
a.) Manufacturing defects.
b.) Kumoten delivered the wrong item.


Product return policy and procedures
(a) Stay Calm and Contact Us. In the event of customer complaint and request for return or refund, please stay calm and contact our Whatsapp Customer Service team at 019-3310990 or support@kumoten.com. Our support team available Mondays - Fridays, 9am - 6pm .

(b) What do we need to verify that the item is allowed for exchange or return? In most cases, we will need your help to get a few photo or video (handphone standard is sufficient, no need studio photography. ) of the item, show us where is the problem and we will get it processed. Off course, we will need to know the order ID too.

(b) (i) How to send the item back to us. Once our support team confirms the return, we shall send you a digital consignment note (Pos Laju). Retailers shall be required to inform the buyer to print the digital consignment note and paste it on the return parcel. We will arrange PosLaju to pick up the item from your buyer's address. If your buyer prefer us to pick up the return item from another address like their work place, please let us know too.

(ii) How to pack the return parcel. Please remind your buyer to ensure that the parcel has all the items including the packaging in it. Make sure the parcel is not see-through and well sealed. Paste the consignment note on the parcel.

(c) Exchange or Refund? We suggest you try to ask whether buyer accepts product exchange as first option. In any case, you and your buyer shall have the option to either get refund for the item's amount paid as stated in the sales order, or product replacement (same SKU). However, in the event where the particular item is out of stock, Kumoten shall refund the amount to you (dropshipper) and you liaise with the buyer.

(d) How long does it take? The product return or refund normally takes about 7-14 working days to complete. But it take two to tango, we need to work as a team to resolve the issue. Help us get the necessary information and Kumoten will try our very best to shorten the process.

(e) Communication with buyer. Kumoten does not liaise with end users. We need your help to liaise directly with your buyers because they know you.

(f) Delivery cost. Delivery cost for returning item shall be borne by Kumoten if you follow the procedure of using our digital consignment note. Kumoten shall also bear the cost of sending the item back to the buyer.

(g) Buyer from countries other than Malaysia. The verification process is similar to Malaysia-to-Malaysia returns. Kumoten will still bear the return cost if it meets the Product Return Policy requirements. The only difference is we will use other courier service company and the process will take up to 30 days depending on buyer location and stock availability (worst case scenario). In the case of refund, we shall refund in the same currency in which you paid Kumoten.

Refund or replacement will not be applicable for the following situations:
a) Original packaging missing
b) Any item that has been worn, or altered.
c) Used items (for cosmetic and other personal items such as under garments, adult toys)