Season's Love Lemon Elixir Gel with Massage Roller 150ml
柠檬啫喱按摩滚轮仪胶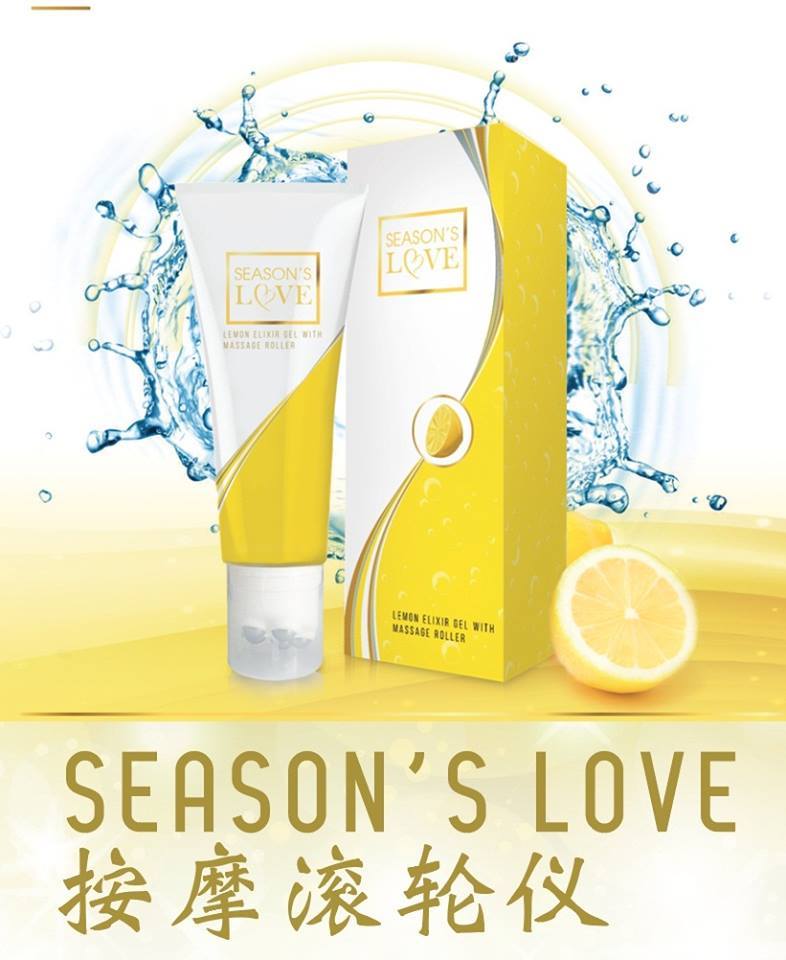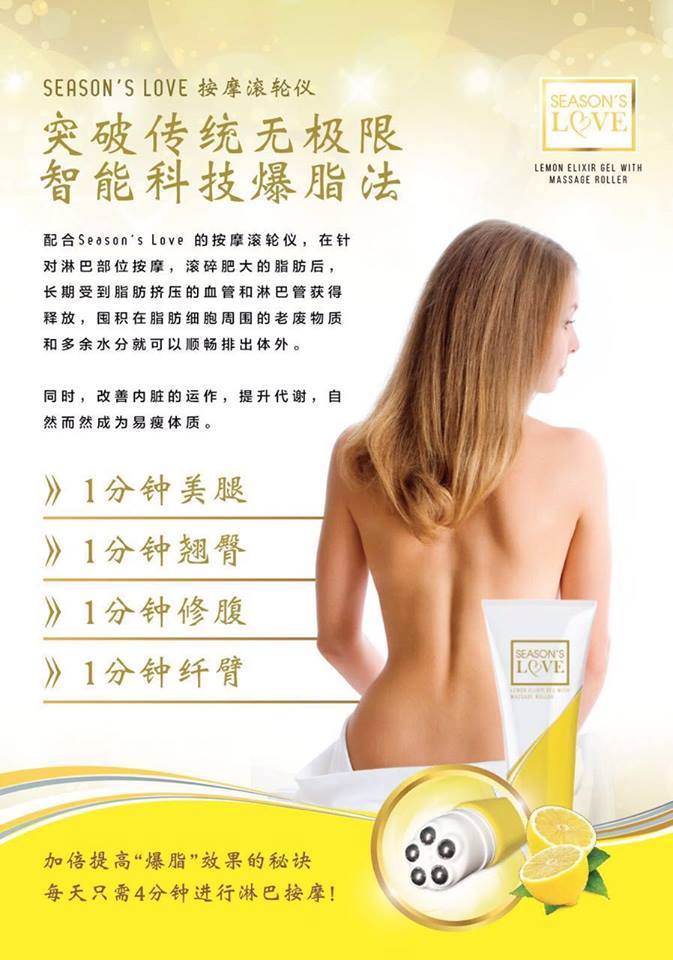 Still unable to own a pair of skinny legs even have slimmed down? Season's Love experiencers who have the similar worries, after a month of using Season's Love Lemon Elixir Gel Massage Roller, some of them are wearing smaller size of jeans! Slender waist and skinny legs! Waistline has slimmed down with 2 inches! Own a flat stomach like teenage!
仍无法拥有一双甚至已经瘦身瘦腿?
Season's Love 柠檬啫喱按摩滚轮仪胶使用者原本也有同样的忧虑,使用了一个月柠檬啫喱按摩滚轮后,他们其中的一些人如今穿着更小尺寸的牛仔裤!瘦腰瘦腿!腰围也瘦了2英寸!Season's Love 柠檬啫喱按摩滚轮仪胶 让你拥有一个年轻人该有的平坦腹部!
PRODUCT FEATURES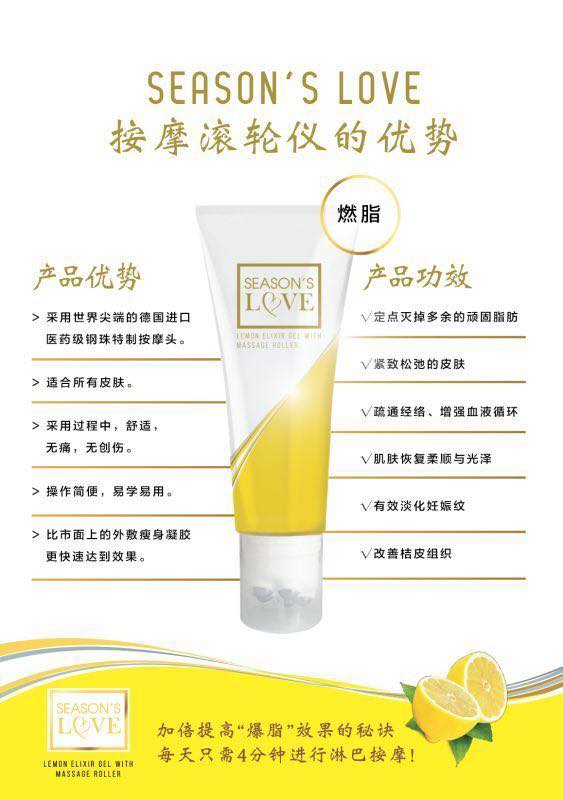 - Customized Roller head with Pharmaceutical grade bearing ball imported from Germany
- Perfectly for all skin types
- Comfortable, painless, and non-invasive
- Easy to use
- Easier and faster than other slimming gels in the market
- 采用世界尖端的德国进口医药级钢珠特制按摩头。
- 适合所有皮肤。
- 采用过程中,舒适,无痛,无创伤。
- 操作简便,易学易用。
- 比市面上的「外敷瘦身凝胶」更快速达到效果。
PRODUCT BENEFITS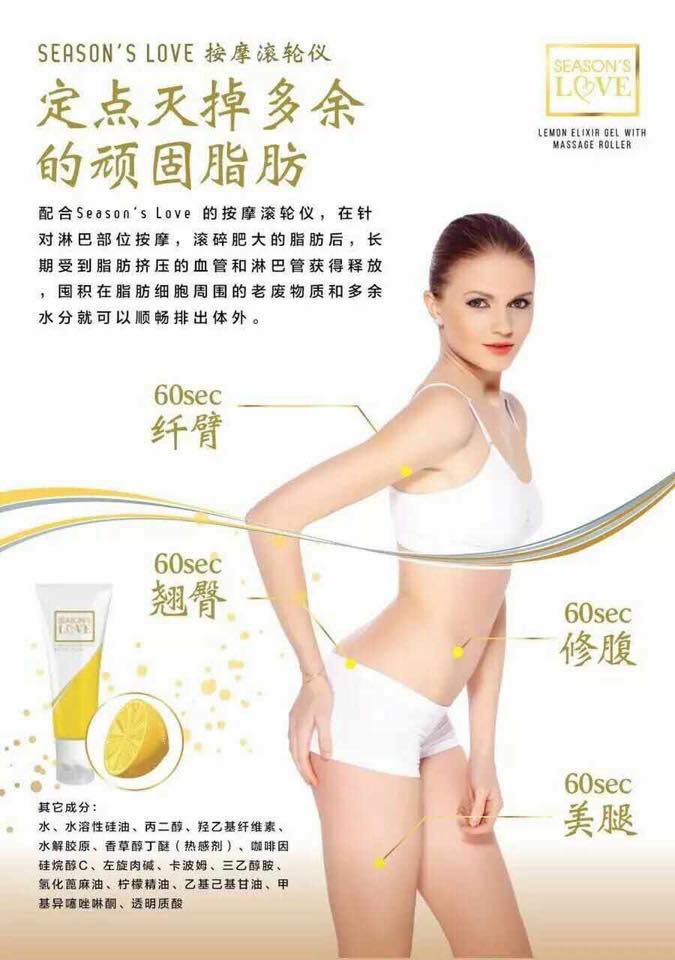 - Eliminate sutbborn fats of necessary parts
- Prevent the conformation of lipid
- Firming up and promote the skin elasticity
- Dredge meridians
- Promote blood circulation
- Relieve from muscular fatigue
- Activate the deeper cell layers in order to smoothen and brighten skin
- Repair rough skin, reduce stretch marks and improve cellulite
- Brightening skin tone
- 定点灭掉多余的顽固脂肪
- 有效隔阻油脂形成
- 紧致松弛的皮肤,使肌肤更紧绷和有弹性
- 疏通经络
- 增强血液循环
- 缓解肌肉疲劳疼痛
- 能激活肌肤深层细胞层
- 令肌肤恢复柔顺与光泽
- 平复凹凸皮肤,有效淡化妊娠纹与改善桔皮组织
- 美白亮泽肌肤
PRODUCT IMAGES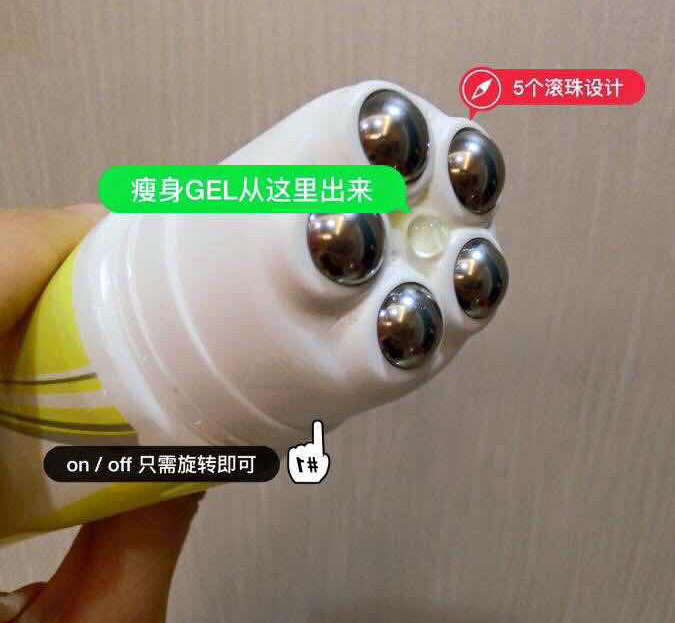 TESTIMONIAL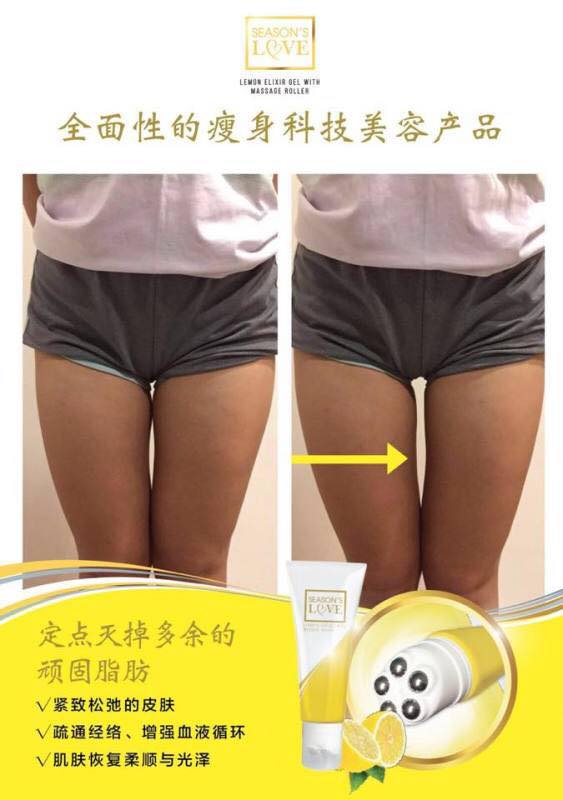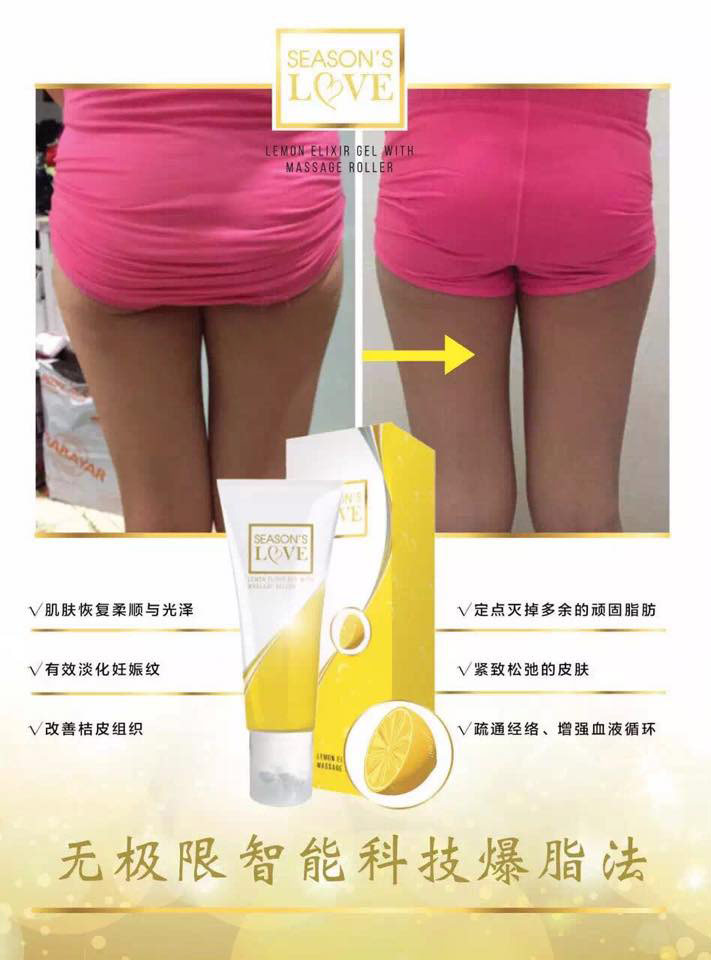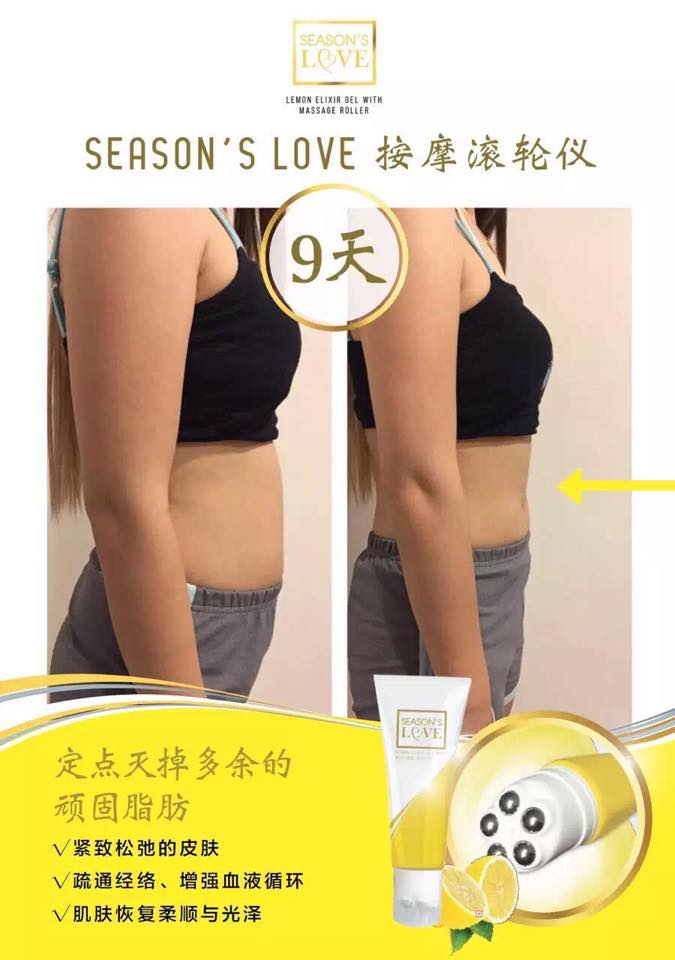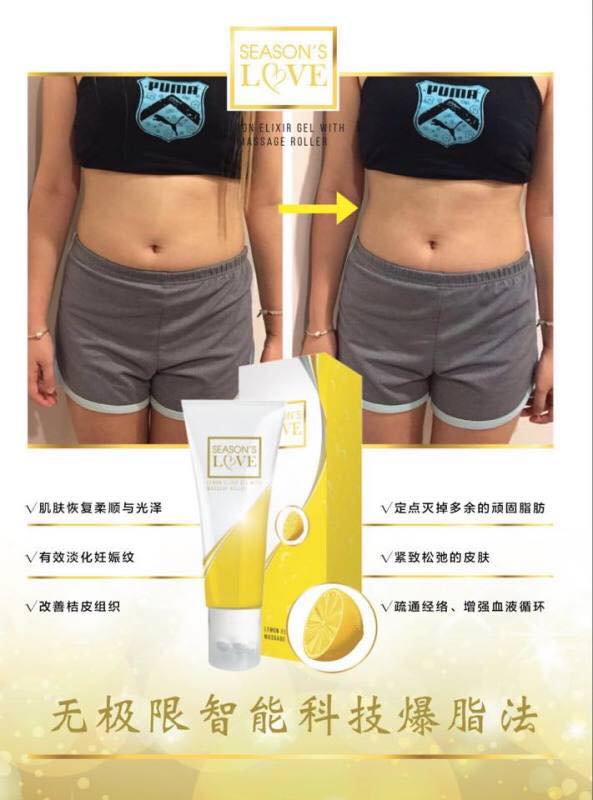 MAIN INGREDIENTS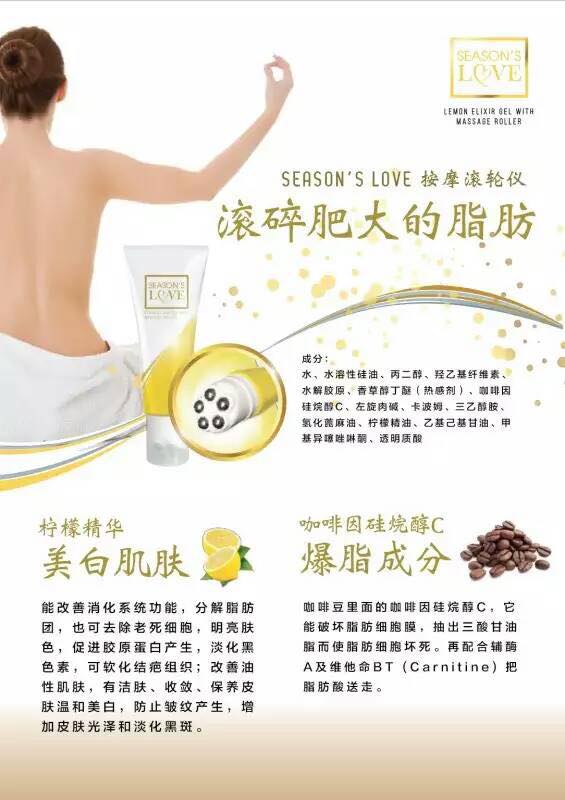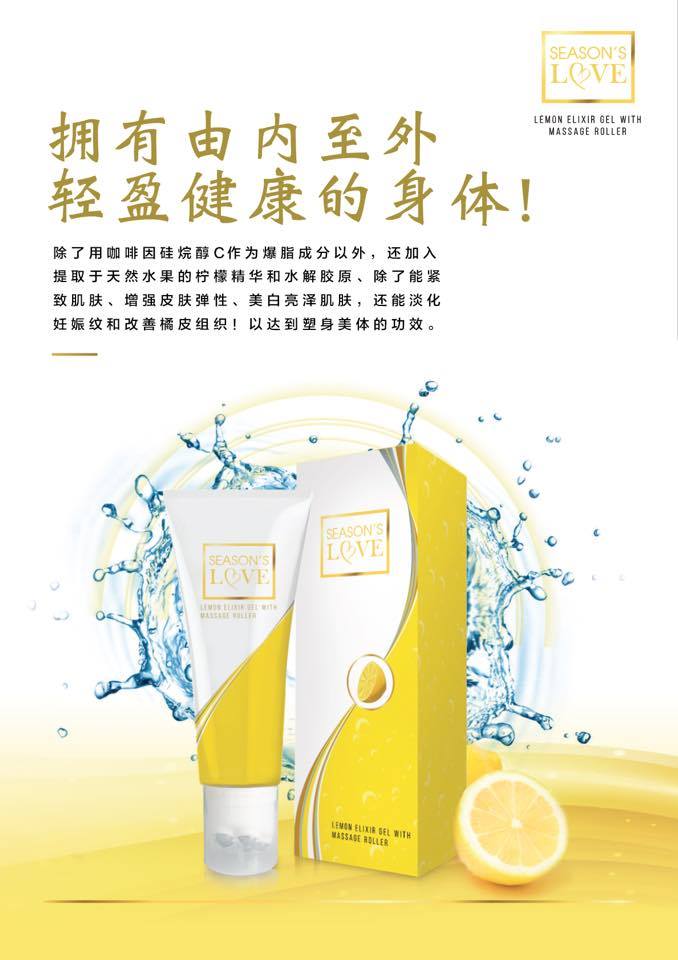 Ingredients: Water (Aqua), Propylene Glycol, Hydrolyzed Collage PEG-12 Dimethicone, Carnitine, Carbomer, Triethanolamine, Siloxanetriol Alginate, Caffeine, Butylene glycol, PEG-40, Vanillyl Butyl Ether, Hyaluronic Acid, Ethylhexylglycerin, Hydroxyethylcellulose, Citrus Limon Fruit Oil, Methylisothiazolinone, CI 11680

SUITABLE FOR
- Suitable for everyone
- Not suitable for pregnant / lactating woman, and children below 10 years old
- 适用于所有人
- 不适合孕妇,哺乳期妇女,及10岁以下儿童
USAGE INSTRUCTIONS
- Squeeze the right amount and apply on the desire parts, massage gently until thoroughly absorbed.
- Might feel warm few minutes later after the application. Depends on individual circumstances to increase or reduce the amount.
- For better result, use twice a day, in the morning and after shower in the evening.
- 挤压适量涂抹于欲减肥的部分,轻轻按摩至完全吸收。
- 敷用后,可能会感到温热几分钟。取决于个人的情况,以增加或减少量。
- 为了达到更好的效果,建议一天使用两次 (早晚洗澡后使用)。
DRECAUTIONS
- Avoid contact with eyes. If contact occurs, rinse eyes thoroughly with clean water.
- Wash hands with hand soap after the application.
- Not recommended for pregnant ladies and children below 10 Years old.
- Keep out of reach of children.
- Keep in a cool and dry place. Do not expose to direct sunlight.
Location
Cost
Peninsular Malaysia
RM

7.60

Sabah & Sarawak, International
RM

11.95
| Country | Estimated delivery (Working days) | Online Tracking Availability | Shipping Company |
| --- | --- | --- | --- |
| US | 7-10 Days | 2 Days | America Line1/中美专线(IB) |
| Canada | 7-15 Days | 2 Days | E post/国际E邮宝 |
| UK | 7-10 Days | 5 Days | British priority mail/英国专线(HQ-Y) |
| Australia | 5 - 8 Days | 2 Days | Australia priority mail/澳大利亚专线(UBI) |
| New Zealand | 10 - 25 Days | 1 Days | Sweden surface mail/瑞典小包平邮(B) |
| Japan | 10 - 25 Days | 1 Days | Sweden surface mail/瑞典小包平邮(B) |
| Germany | 7-15 Days | 3 Days | Germany priority mail/德国专线(HQ-D) |
| France | 7-12 Days | 5 Days | French priority mail/法国专线(HQ-C) |
| Italy | 7-12 Days | 2 Days | Italy priority mail/意大利专线(BRT) |
| UAE | 10 - 35 Days | 5 Days | Sweden surface mail/瑞典小包平邮(B) |
| Thailand | 7-8 Days | 2 Days | SEA priority mail/东南亚专线(LWE) |
| Vietnam | 7-8 Days | 2 Days | SEA priority mail/东南亚专线(LWE) |
| Brunei | 15-35 Days | 5 Days | 4PX Singapore Post OM Pro/4PX新邮经济小包 |
| Singapore | 7-8 Days | 2 Days | SEA priority mail/东南亚专线(LWE) |
| Indonesia | 7-8 Days | 2 Days | SEA priority mail/东南亚专线(LWE) |
| Philippines | 5-10 Days | 2 Days | AU priority mail2/中澳专线(TOLL) |
For combine shipping, please contact
support@kumoten.com
/ whatsapp 0193310990
Product Return Policy
In what condition do we accept product exchange and/or refund?
Kumoten dropshippers are allowed to return products within 14 calendar days from shipment date under the following circumstances:
a.) Manufacturing defects.
b.) Kumoten delivered the wrong item.


Product return policy and procedures
(a) Stay Calm and Contact Us. In the event of customer complaint and request for return or refund, please stay calm and contact our Whatsapp Customer Service team at 019-3310990 or support@kumoten.com. Our support team available Mondays - Fridays, 9am - 6pm .

(b) What do we need to verify that the item is allowed for exchange or return? In most cases, we will need your help to get a few photo or video (handphone standard is sufficient, no need studio photography. ) of the item, show us where is the problem and we will get it processed. Off course, we will need to know the order ID too.

(b) (i) How to send the item back to us. Once our support team confirms the return, we shall send you a digital consignment note (Pos Laju). Retailers shall be required to inform the buyer to print the digital consignment note and paste it on the return parcel. We will arrange PosLaju to pick up the item from your buyer's address. If your buyer prefer us to pick up the return item from another address like their work place, please let us know too.

(ii) How to pack the return parcel. Please remind your buyer to ensure that the parcel has all the items including the packaging in it. Make sure the parcel is not see-through and well sealed. Paste the consignment note on the parcel.

(c) Exchange or Refund? We suggest you try to ask whether buyer accepts product exchange as first option. In any case, you and your buyer shall have the option to either get refund for the item's amount paid as stated in the sales order, or product replacement (same SKU). However, in the event where the particular item is out of stock, Kumoten shall refund the amount to you (dropshipper) and you liaise with the buyer.

(d) How long does it take? The product return or refund normally takes about 7-14 working days to complete. But it take two to tango, we need to work as a team to resolve the issue. Help us get the necessary information and Kumoten will try our very best to shorten the process.

(e) Communication with buyer. Kumoten does not liaise with end users. We need your help to liaise directly with your buyers because they know you.

(f) Delivery cost. Delivery cost for returning item shall be borne by Kumoten if you follow the procedure of using our digital consignment note. Kumoten shall also bear the cost of sending the item back to the buyer.

(g) Buyer from countries other than Malaysia. The verification process is similar to Malaysia-to-Malaysia returns. Kumoten will still bear the return cost if it meets the Product Return Policy requirements. The only difference is we will use other courier service company and the process will take up to 30 days depending on buyer location and stock availability (worst case scenario). In the case of refund, we shall refund in the same currency in which you paid Kumoten.

Refund or replacement will not be applicable for the following situations:
a) Original packaging missing
b) Any item that has been worn, or altered.
c) Used items (for cosmetic and other personal items such as under garments, adult toys)